Latest News from Youmans Studio
The SKY INK SEA Collection launch and Exhibition.
Youmans Studio has launched the new Collection SKY INK SEA, an artbook, a journal and a dairy, created as an invitation to contemplate and reflect through Rick's artwork. 
The event was held at The Wharf, in Raglan, New Zealand, where the Youmans Studio is. This was the first event held at the Studio and as a team, we are super excited and motivated to continue doing more exhibitions and events. Furthermore, as a first experience, we believe that it was positive and successful. 
The event started at 5pm with drinks and nibbles for guests, then the presentation of the SKY INK SEA Collection, followed by then a live painting performance by Rick Youmans. The artist dazzled the audience with his art and then he invited the public to participate with questions and thoughts. 
The event had a great atmosphere, we enjoyed seeing the attendees surprised and inspired by our new Collection. For those who attended the event, we want to say a big thank you and we hope to see you again.
We encourage people to participate in our events because there is no doubt that you'll take something away with you; either a painting, a book, new learning, new experiences, or new friends.
We're sharing some memories with you of the SKY INK SEA Collection launch with you: 
https://www.flickr.com/photos/192583036@N02/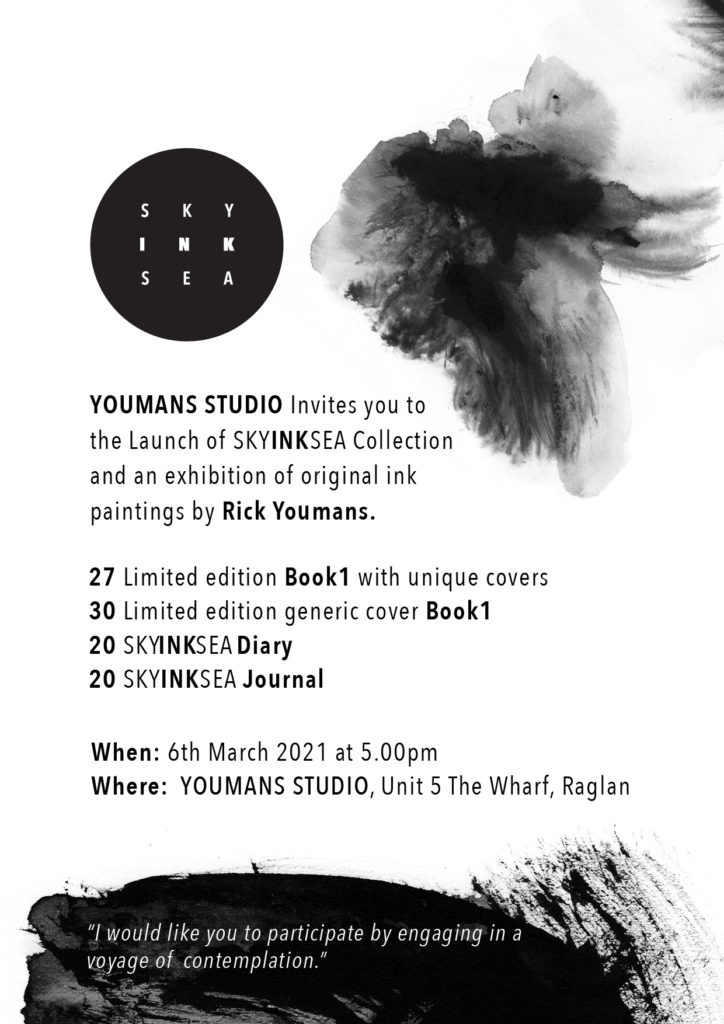 At
YOUMANS STUDIO
we're holding our first event ever!
Come and attend our SKY INK SEA book launch!
The SKY INK SEA Ccollection, a beautiful artbook, a diary and a journal, is a result of Rick Youmans' INK artwork during lockdown, his inspiration was the wild Raglan coastline. From this artwork he chose 27 images to turn into SKY INK SEA, intended as a daily invitation to reflect and evoke feelings.
We are so happy to extend this invitation to the Raglan community and beyond. The event will be on the 6th of March, from 5 pm to 7 pm at the YOUMANS STUDIO located at the Wharf, unit 5, 92 Wallis Street, Raglan. 
To confirm your attendance at our launch event, complete this short form by clicking here.