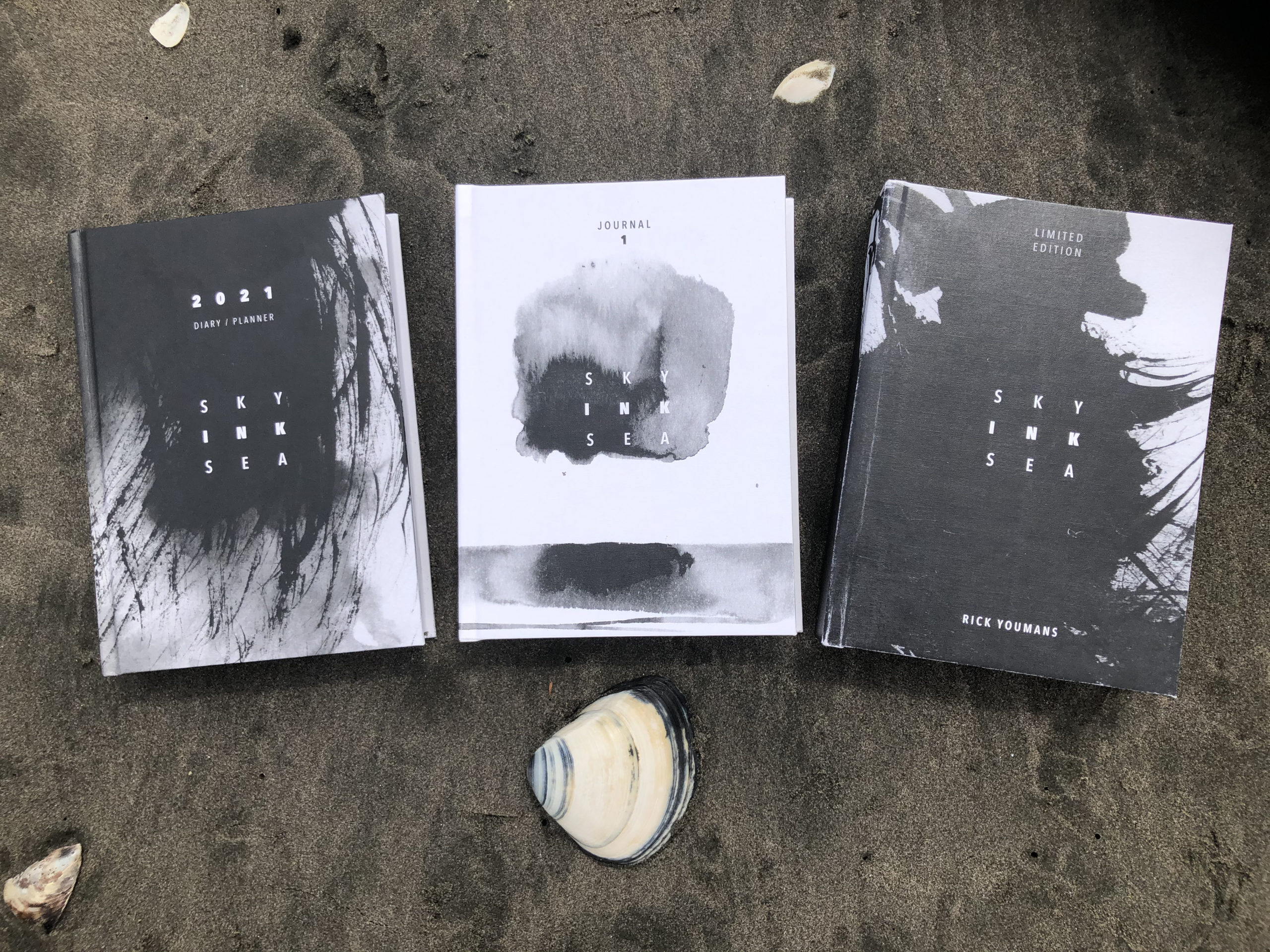 The SKY INK SEA Collection is a result of Rick Youmans' INK art work during lockdown, his inspiration was the wild Raglan coastline. From this art work he chose 27 images to turn into SKY INK SEA, intended as a daily invitation to reflect and evoke feelings.
The SKY INK SEA collection is an Art book, Journal and Diary. In this unique collection the artist intuitively communicates feelings inspired by nature with you through the medium of black ink on paper. Seek out your own thoughts and feelings inspired by each artwork. Look beyond the surface ink and delve deeper.
SKY INK SEA Collection products are eco-friendly, printed on recycled and carbon neutral paper.
30 Limited Edition Art Books
This book is a compilation of ink paintings by Rick which represent his experiences of looking out to the sea and connecting with nature. This is the first book in a series of three books where readers are urged to participate by embarking upon a healing path of self-exploration in order to gain a higher understanding of themselves within their environment.
Price NZ $97.00
27 Limited Edition Unique Cover Books
This is an exclusive edition where every book has a unique cover. This means that you will be the only one with this SKY INK SEA book. Interested?! We will send you the catalogue where you can choose in advance which book you would like to have.
Price $167.00
SKY INK SEA Diary
The diary includes twelve of Rick's ink paintings. It is an invitation to schedule time for reflection and contemplation through the feelings evoked by his art. Also, this diary will help you to plan  success in your tasks. It is a daily diary with a monthly calendar for planning and cute monthly moon phase icons.
Price: $ 87.00
SKY INK SEA Journal
This Journal was created as space where people can reflect and write down their thoughts without limitation. It includes 13 of Rick's ink paintings, and blank pages for you start your Journey. There are 3 covers to choose from.
Price: $87.00